A Little About Your Target Practice Podcast & Host
The "Target Practice" podcast promises to bring new ideas for goaltending practice to Hockey Talk Radio.  Through weekly episodes, host Chris Dyson hopes to help team coaches, youth parents and goaltenders with the struggles of a very demanding position.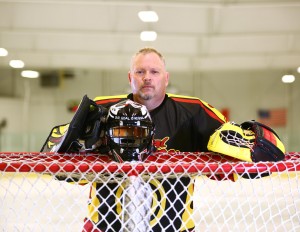 Chris Dyson is passionate about hockey — specifically, goaltending. He believes enjoyment of the game for minor hockey-aged goalies is paramount, and that this can be achieved by developing better skills, which will inspire confidence through improved play.
Chris' mission is to change the game of hockey from the grassroots up, by providing coaches with the tools and knowledge to properly help their goaltenders and keep the game fun for everyone.
For nearly 30 years, Chris has instructed students from over 18 countries, presenting Puckstoppers Goalie Schools in Europe, USA, and Canada. He has received accreditation for his professional coaching skills and personally instructed literally thousands of goaltenders, parents, and coaches.
As a Goalie Coach/Consultant, Chris has seen many disheartening situations, involving well-meaning coaches who lack knowledge and understanding of the very skills they are trying to teach to impressionable young goaltenders.
For many years, Chris and Puckstoppers (his goalie training company) have offered free seminars to minor hockey coaches in an effort to help educate and eliminate this situation.
Mr. Dyson is now on a personal mission to develop an awareness of proper goaltender training throughout minor hockey, with a goal of achieving 100% compliance for all coaches to learn and understand the Essential Core Goaltending Skills (ECGs).
Chris Dyson welcomes listener questions or comments below, and he promises to address them in future Target Practice hockey podcasts.