A Message From Gino — About Blunt Talk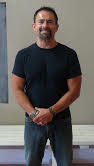 I believe we all have a potential soul of a lifter. We are called to lift for life. We can lift ourselves. We can lift others. I have been lifting for 45 consecutive years, 100% natural. I started lifting as an obese, dysfunctional 12-year old. Lifting transformed my life physically and mentally. In 2001, I expanded my #BasementGym by opening a 24-hour commercial gym called X Fitness Welland Inc., currently in its 15th year of operation. I lift almost every day. It's part of who I am and will always be, but it doesn't define me.
At 18, I was hired as a police officer, starting a 15-year police career. I became a SWAT team officer at 20 years old and detective at 26. At the same age, I became a high school head football coach, starting a 40-year volunteer coaching career.
I've earned a Master degree, and undergraduate degree, and Level 3 NCCP Coaching certification. I have completed a partial PhD dissertation. I am a graduate of Ontario Police College where I earned a Recruit Training diploma, a Criminal Investigation diploma, and a Homicide Investigation certificate.
At 33, I changed gears, leaving policing and starting a 20-year career as a college law enforcement professor/program coordinator. During that time, I became a bestselling academic author of law enforcement textbooks. Recently, I made the literary transition to non-fiction writing with my first motivational book, Soul of a Lifter. I've also produced my SWAT offense and defense systems that I developed over 40 seasons of coaching football at high school, college and semi-pro levels. With my #Pledge to write about everything with which I am conversant, I've produced both non-fiction and technical books on Entrepreneurship, Business, Weight Training, Football and Fitness for children and adults.
Keep lifting,
Gino Arcaro M.Ed., B.Sc.
owner – X Fitness Inc.
author – Soul of a Lifter
Ask Gino a question about Blunt Talk in a comment box below…