Here's the latest goings on with Hockey Talk Radio NEWS…
Phew…
If you're a faithful Hockey Talk Radio listener, you probably know that our station was down for a fairly long stretch a few days back.  Actually, it was a problem with our air-time provider, Radionomy, but I'm not complaining.  They are pros — through and through, they provide options to us that no others do, and I can't believe the thousands of online stations they host without many glitches.
Acts of Attrition…
I'm not trying to be cute with that title, but instead I'm suggesting that Hockey Talk Radio is bound to change over it's earliest months on the air.
As I've said so often, some truly great hockey podcasters helped us fill our first weeks' programming, and I know that many of them busted their buns to meet the tough requirements set down by Radionomy.  And, trust me, that those requirements do take some extra time and effort to prepare a show for broadcast.
Perhaps the most difficult challenges are on those who host longer podcasts — or mainly NHL fan-based one that can run from an hour to two hours long.  Thankfully, the burden isn't quite so much for the shorter, teaching-oriented podcasts that tend to run under 15-minutes per episode.
I say all this so regular listeners might expect changes to keep coming for awhile.  All I can promise — at least as it's happened so far, is that the shows will continue to get better and better as the weeks, months and years go along.
Lastly, if you're interested in creating your own show, scan this linked page about creating your own show for some basic info.  I'll help further from there.
About our programming…
We have about ten or twelve great teaching-oriented podcasts that are programmed into the daytime and early evening hours — from about 9am to 9pm (EST).  Our shortest instructional shows are rerun up to four times during that span, in hopes listeners won't miss the great advice shared by each host.  Even the longer of these shows — running close to a half- to full-hour — are rerun at least a couple of times during the daytime and early evening hours.
Our much longer, so-called NHL fan-based hockey podcasts start running a little later at night, and they continue to be rerun right through the wee hours.  There are a number of reasons for this, including the fact that some such shows include adult-type language.
One other point I know I've mentioned at least once before…  Although I have access to our program schedule for each day, Radionomy doesn't so far provide a way for me to transfer that to this website, or otherwise make the schedule accessible to anyone other than yours truly.  That doesn't mean I won't eventually find a way to solve this problem, so please do stayed tuned.
A Hockey Diary post you really should read — about "Why You Have To Podcast"…
This is another reprint from an earlier NEWS post, as I point listeners — from all walks of life — to a recent post I did in my Hockey Diary.  For, I sincerely feel "Why You Have To Podcast" will convince a lot of listeners to do just that.  Actually, that article explores how big time celebrities now take advantage of certain media, and how even your local gardener, attorney, financial planner and others do, too.  Yes, they're using the media, and you're quite likely to be left behind — no matter what field you're into, if you don't read this article.
A Really AWESOME update…
Then, one more repeat…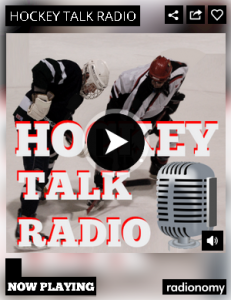 The latest awesome news is about our ability to share a Hockey Talk Radio player on the blogs and websites of our friends. In other words, I can now share a special code with a reputable hockey site, and our station will play right there, at the push of a button.
I've done that on both CoachChic.com and my Hockey Diary, just to show how it looks and works, and I've more recently helped some of our Hockey Talk Radio show hosts place a player on their websites.
We know blog visitors will enjoy quick access to Hockey Talk Radio, but I want to do more than that. So I plan on promoting participating blogs or sites, here on this site, and to my 18,000+ social media contacts.
The techie side of this is easy-peasy: I give you the code, and you just paste it in to where you want the player to appear. That's it! And if you have any problems, I'll be available to help.
— Hockey Talk Radio Executive Producer, Dennis Chighisola
*
Be sure to return here often, for more updates
and Hockey Talk Radio NEWS.