About Dennis Chighisola and his Coach Chic's Hockey Secrets Program

Coach Chic's Hockey Secrets is really just that, an online radio program that shares numerous tips, tricks and shortcuts aimed at helping hockey coaches, parents and adult players.  In fact, much of what The Coach shares with listeners includes ideas or viewpoints most hockey folks have never before considered.
*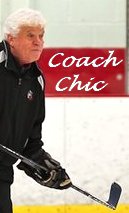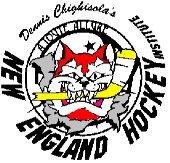 The seeds for a new kinds of hockey training sprouted in 1976, when Dennis Chighisola attempted to fill what he thought was a growing need in his home region, this being a skill oriented training program that included game-related skating, puckhandling, passing and shooting. The popularity of his early sessions grew such that Dennis ultimately expanded and operated some of the most successful hockey schools in the Northeast, with locations in MA, RI and PA. (Numerous former and current NHL-ers and hundreds of top college players were among Coach Chic's students.)
In 1979, Coach Chighisola studied at the Institute for Physical Culture & Sport in Moscow of the old Soviet Union. And, as you'll discover within his writings and podcasts, that eye-opening experience still influences the way he teaches today.
Dennis possesses a BS Degree in Physical Education & Coaching, with a Minor in Instructional Media, and he holds USA Hockey's highest certification as a Level 5 – Master Coach.
From the earliest days until present, he has also head coached every level of amateur hockey — Mites through Juniors, he spent 3-years as a high school head coach, another 7-years as a college head coach, and ended that chapter in his life with several minor league professional coaching/GM interviews.
Over a number of more recent years, Dennis ran Junior High School and High School Prep teams under the New England Hockey banner, with many of his students/players ultimately starring in local MA and RI schools. Modeled somewhat after what he'd seen at the special sports clubs around Moscow, weekly training included scientifically based off-ice and on-ice sessions, Russian-style dryland, and even in-line work.
Coach Chic still taught beginners until his recent move to Florida, and he's worked with numerous pro players, which makes for a very interesting study. In other words, he firmly believes that working back and forth between the two extremes helps him gain greater insight into the way early training ultimately influences the older player — for the better, and for the worse.
Through the years, he has attended coaching seminars all over the hockey world, and he's also been a popular guest speaker, especially in the areas of individual skills development and skating analysis.
Dennis has for many years penned advise columns for "Hockey/USA" and "PureHockey" (hardcopy) magazines, he frequently fields questions for several websites, and he's authored several hockey training manuals.
He also has hosted a popular on-line radio show, Coach Chic's Hockey Secrets.
Through the years, Coach Chic has invented a number of training aids — including the Skater's Rhythm-bar, all of these used in-house, or within New England Hockey programs.
During the summer of 2013, Dennis accepted what he believed to be his dream job, as the GM/coach of a Junior team based in Kissimmee, Florida. The new league ultimately folded after a few months, but he fell in love with both the Junior level and the Sunshine State.
Today, he spends most of his time working on his Hockey Diary and a hockey advice website, plus a few new ventures — including the founding of Hockey Talk Radio.
Not done teaching yet, Dennis suspects he'll someday get back to working with local players, but this time in Central Florida. Stay tuned.
Dennis really enjoys fielding questions, and he looks forward to listeners steering his future Coach Chic's Hockey Secrets episodes.  Please leave your comments below.