A Little About Michael McCarthy and his In The Crease Show
"In the crease" will be about all issues related to goaltending — anything from drills to proper technique to equipment to game play, and any issues listeners would like to explore.  Goaltending is the most important position on the ice, and generally the determining factor in a team's overall results.
~ Mike McCarthy
Michael McCarthy began playing at age four, and went straight into the net where he remained for 23 years.   Mike played in leagues around the Boston, MA-area such as high school, university, junior, and semi-professional and minor leagues.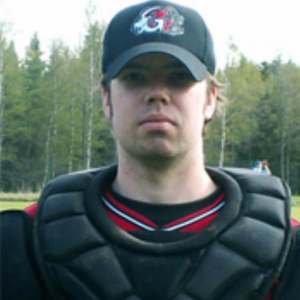 Since making the transition into coaching, he continues to work with players of all ages and skill levels.
Michael is currently based in Sweden, where he continues to focus on goaltending, while at the same time being active as a head coach.  His primary focus at the moment is with teams of elite players, ages 16-20, but he also constantly works with professional level players.
Mike has had players graduate on to the NHL, AHL, NCAA, Canadian major junior leagues (like the OHL), and European professional leagues such as SHL (Sweden), KHL (Russia), NLA (Switzerland), as well as many other high levels.
Mike is currently working within one Swedish club, where he acts as head coach for two teams, assistant head coach for two more, and head goaltending coach.  In addition to those responsibilities, he works for two separate goaltending camps, an international hockey school,  and he acts as an outside consultant and scout for several programs.
Michael McCarthy holds a firm belief in loving the game and playing hard, and he most values intelligence, heart, and guts in a player.
Have a question or comment for Mike?  Just use a comment box below.  He'd love to hear your ideas for his In The Crease Show.