Hockey Talk Radio is proud to bring a new and special collection of podcasts to our listeners…
Junior Hockey Podcasts

An awesome promotional concept, that should be greatly appreciated by Junior hockey fans, team players and their parents, as well as potential recruits…  It's hoped that Junior hockey organizations understand why we plan on only accepting one team podcast from any given league.  With that, it's further hoped that interested teams will contact me as soon as possible.  I can help get your show on board.
— Dennis Chighisola – Executive Producer, Hockey Talk Radio US
*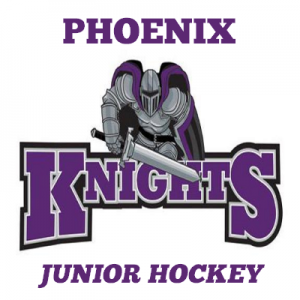 Phoenix Knights – The Phoenix Knights are prelude members of the Tier-II, Jr A Western States Hockey League. The league and its members are governed by AAU and the United Hockey Union. Players progressing through our program may go on to play higher levels of juniors, NCAA or ACHA Hockey, or minor professional hockey in the US and Europe.
The Knights are dedicated to the development of young men as persons, students and hockey players. It is our goal to make anyone who comes into our program better across the board when they leave. We prepare players to play at the next level, and promote the skills that will help them be successful no matter the path they choose in life.
Listen in regularly to Knights play-by-play broadcaster Steven Force, joined by Knights color commentator Kevin Brozek and podcast producer Charles Woodall-Pike.
*