Vegas Hockey Podcast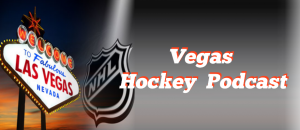 It's founder, Mark Warner, says the Vegas Hockey Podcast started when Mr Foley announced his ticket drive for a new Las Vegas based entry in the National Hockey League.  Gradually, the new show has evolved into an interview based podcast, welcoming in former players, local radio and sports gaming figures, as well as bloggers and media members from around the world to talk about the teams they cover.  Mark and his co-host, Christopher Lizza, urge you to tune in weekly, Mark adding, "You just may see your favorite team featured on the Podcast!"
Click Here to learn more about the Vegas Podcast and its two hosts.
Listen to a sample show segment by our featured host/s…
Each week we'll highlight a different Hockey Talk Radio show.  Listeners also get to tell us which shows they like best!  So comment often on their profile page, and we'll see that as a vote.  Also, give us your impressions on the Listener Feedback page.