Here's the latest goings on with Hockey Talk Radio NEWS…
Consolidating Our Best Hockey Podcasts…
Listeners may notice that we've reduced the number of shows we're carrying, just to give faithful contributors more air-time.  This will especially help those who produce NHL fan-based podcasts — they're usually fairly long, and deserving of being aired more than once each night on Hockey Talk Radio.  That doesn't mean we're not looking for more shows of that type, but we will likely seek shows that run closer to 30-minutes (as opposed to 60- to 120-minute podcasts).
Special Guest Podcasts…
We had such great luck with our original few guest shows — like Win Now Analytics, Fit Across Cultures and Shaun Goodsell's Mental Edge Podcast, that I'd like to continue trying other shows.
Listeners might like to recommend a favorite show for us to talk with about this, and so do we invite independent producers to contact us.
Then, if anyone is interested in creating their own show, they might scan this linked page about creating your own show for some basic info.  I'll help further from there.
Still offering a Hockey Talk Radio player for your hockey related website…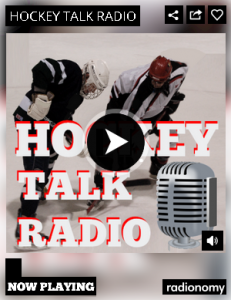 Don't forget that we now have the ability to share a Hockey Talk Radio player on the blogs and websites of our friends.  In other words, I can now provide a special code with any reputable hockey site, and our station will play right there, at the push of a button.
I've done that on both CoachChic.com and my Hockey Diary, just to show how it looks and works, and I've more recently helped some of our Hockey Talk Radio show hosts place a player on their websites.
We know blog visitors will enjoy quick access to Hockey Talk Radio, but I want to do more than that. So I plan on promoting participating blogs or sites, here on this site, and to my 18,000+ social media contacts.
The techie side of this is easy-peasy: I give you the code, and you just paste it in to where you want the player to appear. That's it! And if you have any problems, I'll be available to help.
— Hockey Talk Radio Executive Producer, Dennis Chighisola
*
Be sure to return here often, for more updates
and Hockey Talk Radio NEWS.